---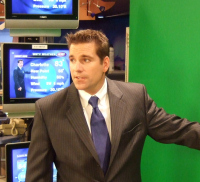 Hail Point was founded by Mike Dross. He is a meteorologist with a long history of severe weather forecasting and research. A graduate from the University of North Carolina at Charlotte in Atmospheric Sciences. Dross worked for nearly 15 years as a meteorologist for both Duke Energy and on the energy trading floor for BP North America Gas and Power. He also worked for the National Weather Service and as an on-camera meteorologist in the Charlotte & Triad markets for News 14. His broad experience in operational forecasting, energy trading and computer science will continue to lead Hail Point with new innovations in hail research and analytics for our clients.
Hail Point™ is a Wright-Weather®, LLC company. Wright-Weather has been a leading provider of weather information for Fortune 500 companies for over 20 years and continues to serve many companies throughout the world with dependable, accurate weather information. Some of the organizations that have come to rely on the Wright-Weather companies for information are listed at the bottom of the page.
We're passionate about leveraging the latest meteorological, remote sensing and big data technologies to produce the most detailed information ever about storms. We have spent years developing proprietary techniques to detect damaging hail and their impacts to businesses.

Using our exclusive StormCost™ & HailCost™ products, we are able to provide extremely accurate information about property damage from storms. Industries such as Insurance, Roofing, Auto Dent Repair, Agriculture use our information to make informed business decisions. We have an API for custom applications that use our data. Please contact us for more information.
We're continuously improving our proprietary methods and developing new features and products. Please contact us about any features or products you'd like to see