Metro Subscriptions $59.95 p/month
State Subscriptions $69.95 p/month
National Subscription Only $89.95 p/month
Included with each subscription are all new hail maps created for that area and alerts with hail impact metrics, such as Housing and Population affected by various size hail. Also included are 5+ years of historical hail maps . Great for finding hail damage from previous storms.
Hail Point provides the absolute highest quality hail data available, using super resolution National Weather Service, FAA & U.S. Department of Defense Weather Radars, combined with NASA and commercial satellite's. Using a number of remote sensing technologies combined with field reports from storm spotters and from social media, we are able to produce the most accurate hail products available. We verify all our products with our own meteorologists and we offer unbeatable pricing.
Address Specific Hail Reports Now Available.

Hail Point is now pleased to announce the availability of HailVerify™ Hail Verification Reports
The hail history record extends back to January 1st, 2013. The Hail Verification Report is created and stored in your My Hail Point Account in a PDF file for download. The report is also emailed to your email account.
Now available is the ability to search any address in the U.S. and retrieve a detailed history of the maximum size hail that has occurred at that location and within up to a 10 mile radius.
A S
ample Hail History Report
can be found
here.
In addition to our Hail Maps and Hail Reports, HailPoint™ has a number of exclusive hail analytic services available for the Insurance and Financial service industry. Some of our services available are:
| | | |
| --- | --- | --- |
| HailCloud™ | HailNotify™ | HailStream™ |
| HailLink™ | HailVerify™ | HailRank™ |
See our Insurance Solutions page for more information.

Maps
Our hail maps contain the information you need.
Quality & Accurate Data

Our hail maps and analytics are the most accurate available. We are continuously improving our proprietary methods to deliver the most reliable and accurate hail damage information.

Interactive Maps

Toggle hail, wind, and tornado ground reports, and adjust hail layer transparency. Zoom into street-level detail. You can also click on individual roof tops to get specific addresses.

Continental Coverage
Get addresses of impacted homes and businesses damaged by hail. Click on rooftops and get the addresses with zip code. Perfect for marketing to those impacted.


Available for 366 metro areas in the continental United States and parts of Canada.

Works on iOS and Android Mobile Devices, as well as, PC & MAC.


View hail maps in the field on your mobile devices.
Try The May 21, 2014 Chicago Demo Hail Map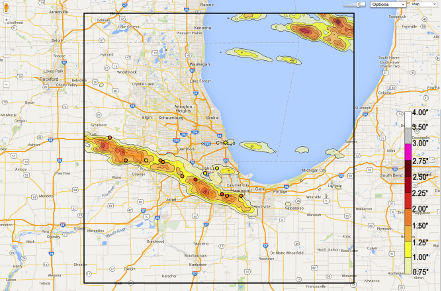 Purchase Hail Maps
Hail Map Features
- Shows Areas Where Hail Occurred. Zoom Down to Rooftop Level -
- Map Covers a 50 Mile Radius Coverage Area from the City Center -

- High Resolution - Interactive Google Street Level Mapping -
- Click on Rooftops & Get Exact Street Addresses with Zip Code -

- Get the Address of Homes & Businesses Impacted by Hail -
- High Performance Interface Works on Mobile and Desktop -
- Plot All Points of Interest ( ie: Dealerships, Home Depot's) -

-Transparency Slider Adjust Hail Layer -

- Toggle Storm Reports on/off -

- Print Map to Printer or PDF File -

- Search and Plot Addresses -

- Plot Your Location on Map -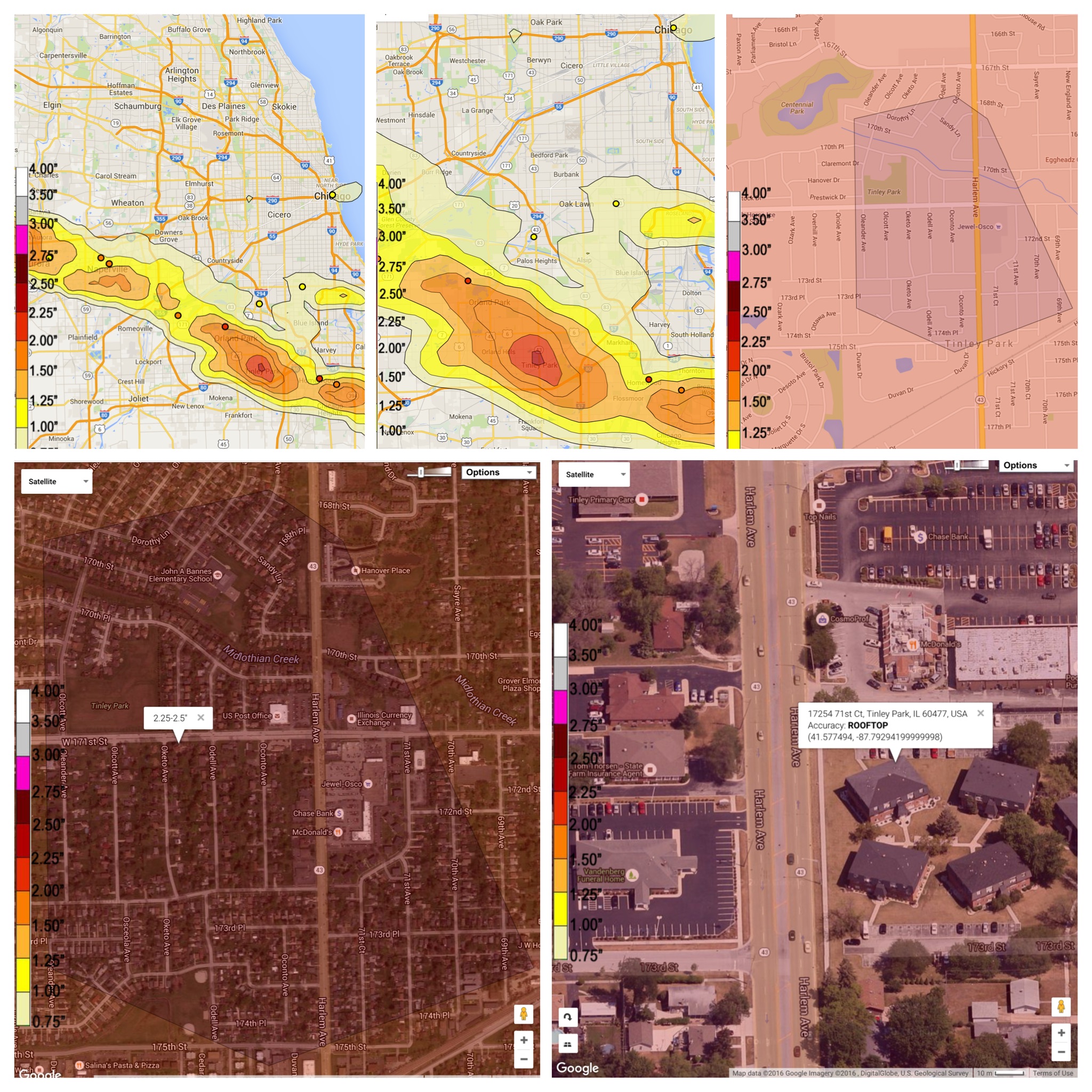 Free Hail Alerts
Stay ahead of the competition with free email alerts when new hail maps are available.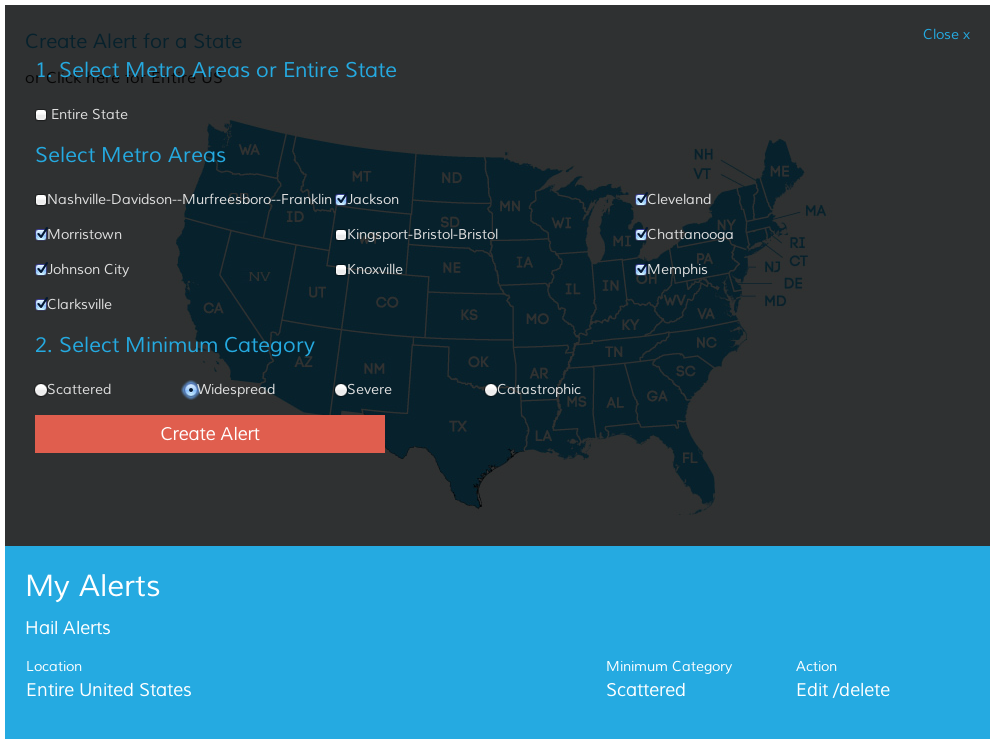 Maximum flexibility

Create multiple alerts with different thresholds and stay on top hailstorms anywhere.

Custom location settings

Set for individual metro areas, states, or entire U.S.

Custom category settings

Set an optional minimum category level for each alert.
Sign-up for Free Alerts
Subscriptions
All future Hail Maps, as well as, all historical Hail Maps.

Save money compared to buying individual maps.
We accept all major credit cards. Subscriptions renew automatically every month, or cancel in My HailPoint settings.

Get real-time hail maps

Get hail alerts with population impacts to quickly view new hail maps nearly in real-time.
Spot previously damaged areas by locating earlier hail storms going back 5+ years. Cancel at any time
Metro Area Subscription

Choose among 366 metro areas in U.S. and Canada.

State Subscription

Choose among 48 lower states and Canada.

National Subscription

Includes all U.S. and Canadian metro areas.
Purchase Subscriptions